---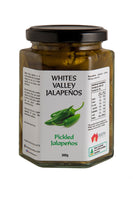 Our pickled jalapeños are one of our most popular products. They are fresh, crunchy and great heat. Basic ingredients: vinegar, water, salt and jalapeños. It has taken us years to get it right. Once you try them, you'll never go back to shop bought mushy pickled jalapeños not to mention ALL the nasties they put in them.
1kg jar not available for shipping due to breakage. Pick up only.
Colour is for illustration purpose only. Product may vary due to fresh seasonal ingredients.